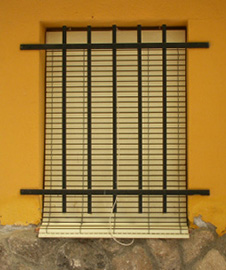 As we all know our city of Cape Town is not the safest in the world. Therefore we recommend to all residents to you make the necessary improvements to your home security. Along with custom security gates, burglar bar installation is one of the essential parts of burglar proofing your residence. As well as that, burglar bars help serve as visual deterrents from any would-be intruders and will give you piece of mind whenever you're home or away.
You want to find the best products available and you'll also need them properly installed, which is why we suggest hiring a professional Cape Town burglar bar company to do the job. We offer custom-made burglar proofing solutions designed to be both highly functional yet without compromising the appearance of your property.
It is often the case that normal window bars are not robust enough and a determined thief can get through them. We make sure to use bars that are not only extremely strong but leave no angles or spaces where someone might find a way in.
Burglar bars need to be both functional but also not to offend the eye. We offer various designs and colours depending on your taste and the appearance of your property. We use powder coated bars that do not require any painting. We also offer see-through / transparent burglar bars, should you wish to maintain your property's appearance. Pleasing to the eye and extremely tough our burglar bars offer a number of advantages:
Good value for money • Aesthetically appealing
Suits different window types • Leaves no access points
Various colours and designs available • Available in all sizes
Some of our popular burglar proofing products include:
Custom burglar guards • Trellis fixtures for windows
Window barriers • Window grills
Window Gates • Aluminium Windows
Installation Made Easy
Our Cape Town burglar bars service provides quick and easy installation with no hidden costs. Our operatives are also on hand for emergency burglar proofing. In the unfortunate event of a burglary you can call our operatives to immediately install burglar bars on your property, thereby giving you and your loved ones some measure of consolation and comfort.
With our accredited Cape Town company you an be sure of a versatile yet robust product that will offer real protection for your home or office. For affordable and top quality burglar proofing in Cape Town call 087 550 3168