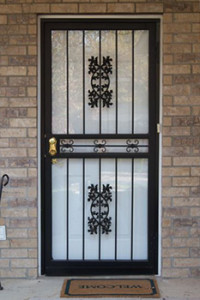 As Cape Town's leading security gate specialists we offer a range of various burglar proofing methods. Of prime important for both home, office and retail premises are the installation of security doors. Our security doors are very tough, pleasing to the eye while not blotting out light from entering your property.
Our Cape Town security door services are available for residential and commercial buildings alike. While without detracting from your property's appearance they also offer a level of visibility, thereby providing a useful deterrent against thieves and intruders.
Our sliding security doors are custom designed to be discreet while keeping you and your property safe. If you want to maintain the integrity of your building's appearance then choose our custom made security doors!
As industry leaders, we offer fully customisable doors to give you the very best protection. All our products are installed by our highly trained team. We leave no openings or angles where thieves might find a way into your building and we work very closely with our clients to give them the style and make of door that meets their needs.
We use galvanized steel along with strongly-built locks. When not in use the doors neatly slide out of the way or can be hidden behind blinds or curtains. Our Cape Town company also provides other types of burglar proofing systems, such as burglar bars for home and office as well as gates for your driveway.
Working with trusted manufacturers and with a team made up of design and security professionals for aim to give our customers the very best security doors in Cape Town at the very best price.
If you have any questions about our products or installation service then feel free to contact us any day of the week on
087 550 3168. You can also drop us an email and request a catalogue featuring some of our more popular designs.
We look forward to help make your property that much more secure!